Tuesday, October 27th, 2009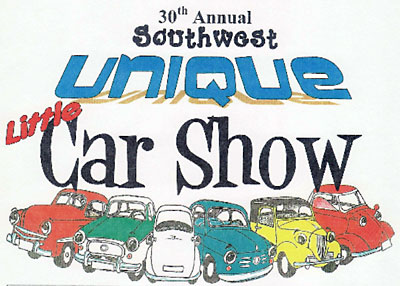 April 9th & l0th 2010 marks the 30th Anniversary
of the longest running gathering of small cars in the USA.
Primarily for un-restored and restored Unique Little Cars up to 1500cc.
Club Membership is not required.
In an effort to support the preservation of original un-restored cars, the Host will award a Trophy to the best preserved original car shown. Best of Show Trophies will be decided by registered participants. We need at least 5 pre-registered cars for a "Type" award.
Friday night there will be a cruise and eating adventure.
Saturday will be the day of the show.
Location: Embassy Suites Phoenix North, 2577 W. Greenway Rd., Phoenix, AZ 85023
Located at the Southeast corner of I-17 and Greenway. Cars will be displayed on shaded grass in the Courtyard setting next to a large pool area. To get these special discounted rates, Hotel Reservations and Car Show Pre-registration must be in by March 9th, 2010. (more…)