Unique Little Car Show 30th Anniversary 2010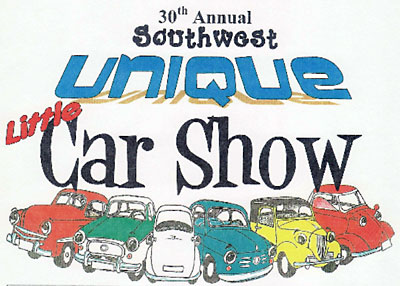 April 9th & l0th 2010 marks the 30th Anniversary
of the longest running gathering of small cars in the USA.
Primarily for un-restored and restored Unique Little Cars up to 1500cc.
Club Membership is not required.
In an effort to support the preservation of original un-restored cars, the Host will award a Trophy to the best preserved original car shown. Best of Show Trophies will be decided by registered participants. We need at least 5 pre-registered cars for a "Type" award.
Friday night there will be a cruise and eating adventure.
Saturday will be the day of the show.
Location: Embassy Suites Phoenix North, 2577 W. Greenway Rd., Phoenix, AZ 85023
Located at the Southeast corner of I-17 and Greenway. Cars will be displayed on shaded grass in the Courtyard setting next to a large pool area. To get these special discounted rates, Hotel Reservations and Car Show Pre-registration must be in by March 9th, 2010.
Banquet Dinner = $ 30.00 EACH.
T-SHIRTS & TANK Tops – available on registration form.
Download a Registration Form HERE (PDF file)
Hotel:
We have a block of rooms being held at the Embassy Suites at a $99.00 rate.
This includes a two-room suite, full cooked to order breakfast, an evening cocktail reception and in-suite high-speed Internet access. Please see instructions below on how you can make your reservation either on-line or by calling.
Online reservations: Embassysuites.com
Enter Arrival and Departure Dates: 4/9/2010-4/11/2010
Enter Preferences:
Special Accounts: Enter the Group/Convention Code: CAR
Click Next to select and make a reservation
or
Call to make your reservation:
Individual reservations can be made by: Calling the Hotel directly at (602) 375-1777 or (800) 527-7715
Calling National Embassy Reservations 1-800-EMBASSY

In order to obtain the discounted rate mention:
Southwest Unique Little Car OR mention the code: CAR

*Reservations must be made at least by 3/19/2010 to obtain the discounted rate. Questions? Please call the Embassy Suites Phoenix North reservations department at 800-527-7715 7:30am – 4pm Mountain Standard Time
Check in: 3:00 pm Check out: 12 noon. Guest room rates are subject to occupancy tax currently 12.27%.
Contact Persons for the Meet:
John Hill Florne: 602-258-9658 JohnHill007@aol.com
Nancy Gnepper l-lome: 623-465-871I
Louis Hudgin Cell: 602-509-3751 LandLHudgin@msn.com
---
Tags: 30th Anniversary!, whoo hoo!